TRAINING & PILATES
Everyone has their favourite pair of leggings to put on in the morning & hit the gym. This is mine. I LOVE this pant. The seams are cleverly placed to shape your thighs, lift your bum, & tug your waist but not in the way that is uncomfortable. In fact, these are so comfortable I could wear them everyday for just your general life duties.
The In Movement Tight has been designed by lulu's newest and my personal favourite fabric, "Everlux". I love the concept of the Everlux fabric. Lulu knowing that everyone raves about the famous buttery soft Align yoga pant came up with the game plan of creating a pant with the same silky soft outside but an inside made for sweat and so we have the Everlux fabric. The perfect constructed pant with the feel of butter on the skin but made for your sweatiest sessions. So, for all you Align lovers out there who would rather not have sweat patches and  more fitness variety out of your legging, the In Movement is for you.
Measurements :
I am 5'3 (157 cm) and the 25 inch length is the perfect full length on me, if not a bit long, so like to roll my legging and show a bit of ankle. Personally, a crop length is my go to even in winter. A lulu crop is near ankle length on me so for anyone who is around the same height and wants a full length pant don't be fooled by the 28 inch legging. I always tell my guests that the 28 inch is for the taller legs & the 25 inch is full length if your on the smaller side like me.
I also take a size 2 in leggings which is a UK 6. On my lady days when I'm feeling bloated I like to wear a size 4, a UK 8. However, with the In Movement I always stick to the size 2 as they can give very slightly over time.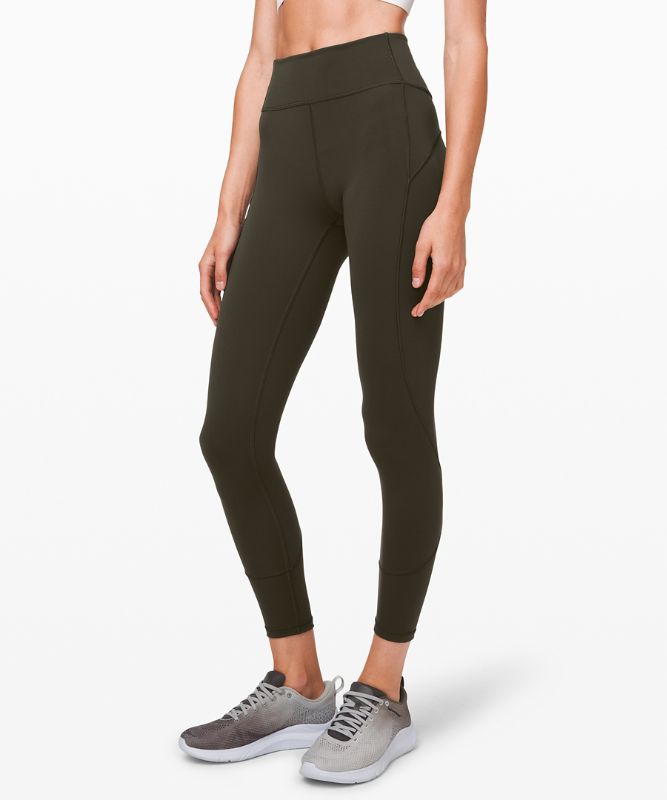 COMFORT & LOUNGING 
This was LOVE at first dressing room try on. I have worn my Align joggers 90% of lock-down, possibly more. If there ever was a more perfect jogger this is it. I love the Align joggers so much as they are buttery soft and feel like a second skin. Compared to other joggers I've had they flatter your figure and give you the best bum. That's obviously not the main point but it's always a plus. They're not too loose but not super tight either. They are more of a tight at the hips and bum but with a looser fit around the knee and calves. The cuff at the ankle is super flattering and to me is the core feature along with the pockets that make this pant a jogger.
I pretty much now own every colour and wear them to travel, for yoga sometimes, to work and just generally everyday.
Measurements :
On me they are high waisted but on others I have seen them more of a mid rise fit. It really depends on your body shape. I sized one up to my usual sizing. In workout leggings I take a size 2 with lulu but with the jogger and more relaxed fitting pants I take a size 4 to give that extra loungey feel. I have both the full length and cropped versions in my wardrobe and wear both depending on the weather. Personally, I adore the cropped as I am 5'3 and can't help myself showing off some ankle.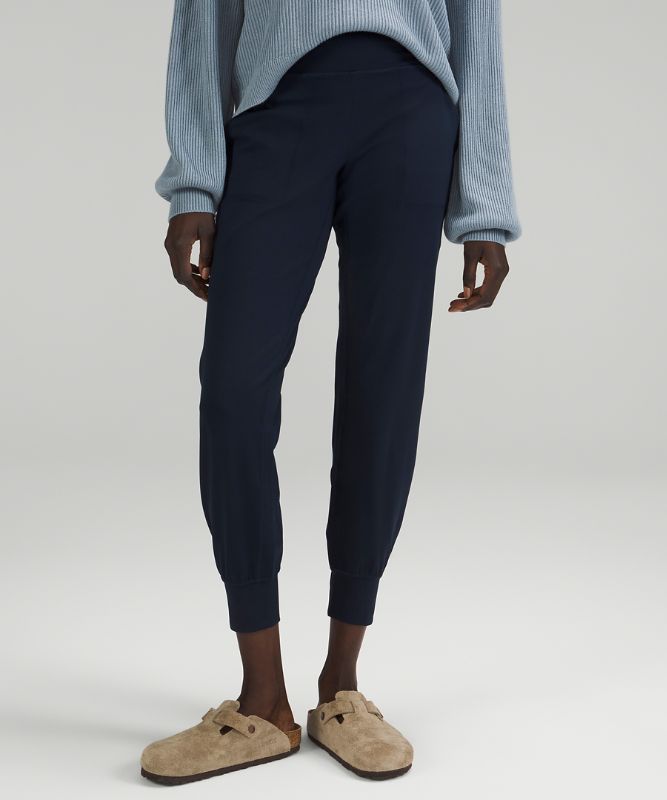 TRAINING, SWEAT & YOGA 
I'm taking it back to basics with this tight. No messing, no pockets, high waisted & no crazy seams. One of lulu's originals & one of my favourite's for sweating in. The Wunder Under comes in different fabrics. It can come in "luon" which is thicker, less sweat wicking and in my opinion more of a comfort legging. It can also come in the new "Everlux" fabric which is one of Lulu's most sweat wicking fabrics and also the full on "luxtreme" fabric. Which is the fabric I have and love.
What is "luxtreme"?
The luxtreme fabric is one of lulu's most sweat wicking fabrics. It is made for sweat and has that sporty lycra feel but silky. It is soft on the skin, tight and supportive. I love the Wunder Under as the design is basic, has no fuss & simple which I think makes this one of the most flattering lulu tights and also one of the most versatile. It's simple & sweat proof design makes it a great tight for overall training, sweaty classes, cross fit, yoga, and hot yoga. I can also recommend the Wunder Under lux for a small run or jog but not for long distance running as they can give slightly on your waist area and this of course isn't ideal for running long distance.
A quick back story: the Wunder Under crop was my first pair of lulu leggings & to this day, 3 years later, they are exactly like the first day I bought them. No colour change, no shrinking, or getting bigger, they are still perfect. In fact, I wore them on my jog this morning.
Measurements :
Like I said above I'm short girl so the crop 23″ is perfect for me. It comes to just above my ankle. This pant also comes in a 28″ full length, 25″ ankle length and cropped. It can also come in a 31″ length for those extra long legs. I have the Wunder Under lux in both the crop and 25″.
Sizing I have both a size 2 and size 4. On days when I feel more bloated I wear my size 4 for extra room on my waist but on the days when I'm feeling less bloated I wear size 2.
Little tip: The Wunder Under cropped with the scallop edging is BEAUTIFUL. (See photo below).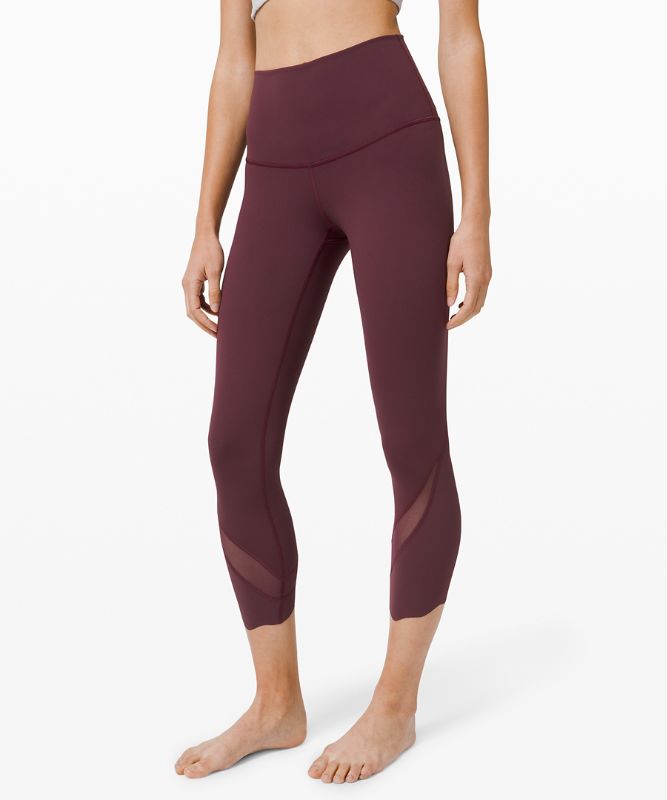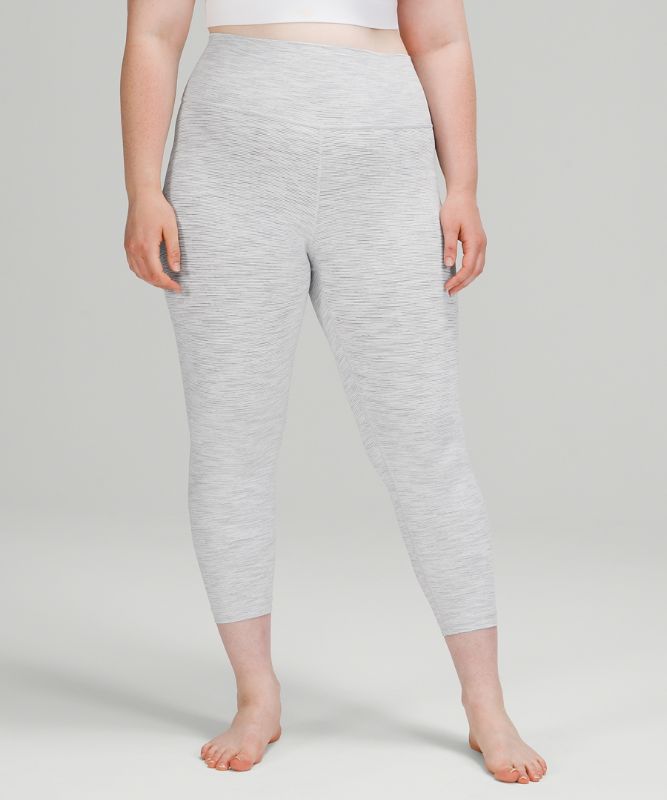 TRAVEL, EVERYDAY & WORK
On The Fly Pant (full on luxtreme)
This is my top choice for a smarter looking casual pant. It can be dressed both up and down.  I even wear my On the Fly pants for dinners out by dressing it up with a baggy shirt or t-shirt tucked in and some cool runners. This is my go to pant for that time of the month because of the drawstring waist. Girls you understand.
The luxtreme fabric is soft, sleek & stretchy. This pant also comes in a woven fabric, however I'm not a big fan as it hasn't got the same stretch.
The On the Fly lux is also a great pant to wear to the office or work. I've found over my years for working with lulu that this particular pant is a huge win for doctors and nurses due to comfort and smarter look. Like I said above it can quite easily be dressed up by tucking in a nice blouse or baggy shirt.
Measurements : 
I sized one up from my usual legging sizing as I prefer the baggier look. I have a size 4 in pretty much every colour. This is a 25 inch length so it comes just above the ankle. However, I always give mine a little roll at the bottom to add some more styling and show off my socks.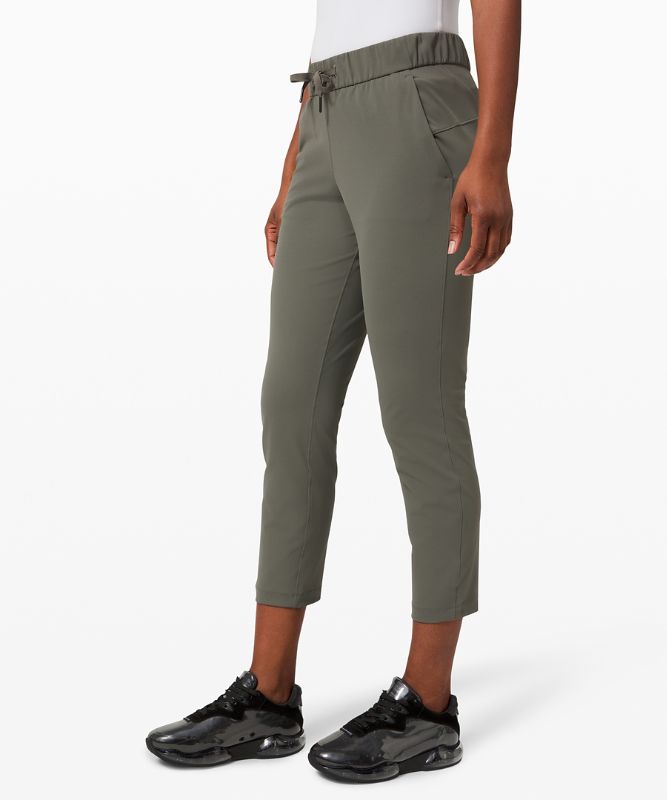 I hope you enjoyed and learned something from this little list.
Sending you all lots of love & big hugs! 
Ella xxx